RICE NOODLES SALAD WITH BLUEBERRY, MUSHROOM AND SOY SAUCE DRESSING
Ingredients
(4 servings)
3.5 oz rice noodles
7 oz mushrooms, sliced
4.2 oz fresh blueberries
1 cucumber
Olive oil
Dressing
1.4 fl oz lemon juice
2 fl oz soy sauce
3.4 fl oz olive oil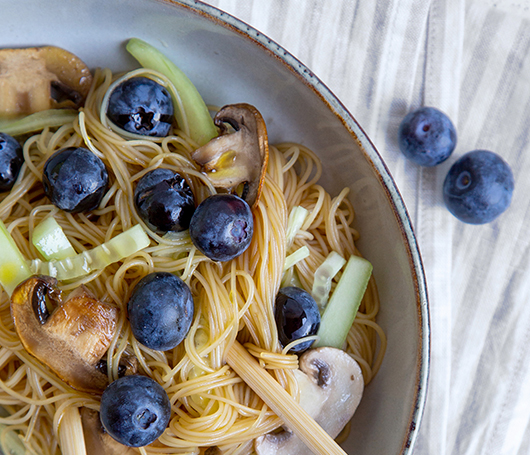 Preparation
Soak the rice noodles in boiling water for 10 to 15 minutes and then strain.
Sauté the mushrooms in a pan with some olive oil and season with salt and pepper.
Prepare the dressing by mixing all the ingredients and stir well. Then add the dressing to the rice noodles and stir well.
Peel and julienne the cucumber, add to the rice noodles, mix the mushrooms in and, lastly, add the blueberries right before serving.