PHYLLO DOUGH SMALL EMPANADAS WITH BRIE CHEESE AND RASPBERRIES
Ingredients
(12 to 15 units)
3 sheets phyllo dough (if they are too thin, use 6)
1 Brie cheese
4.5 oz raspberries
2 oz butter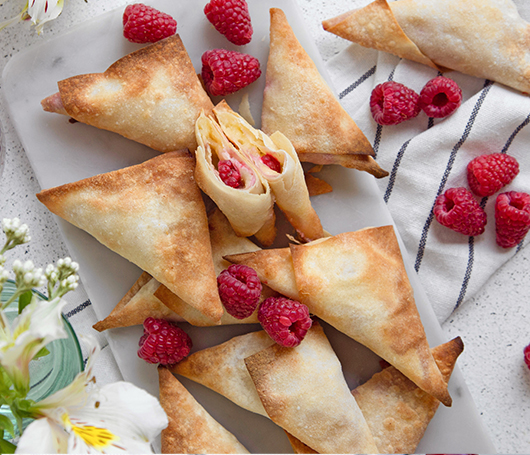 Preparation
Cut the dough sheets into 4 or 5 strips. At the top, add 2-3 Brie cheese cubes and 1-2 cut raspberries.
Fold making a triangle and repeat until folding the entire dough around the filling.
Brush the base with butter and close well.
Put in an oiled oven tray or a silicone mat. Brush the surface with melted butter and add seeds to decorate.
Preheat the oven to 390°F and bake for about 15 minutes or until brown.