ROAST BEEF FILLET WITH COLD SHALLOT AND BLUEBERRY SAUCE
Ingredients
(8 servings)
1 lean fillet
Salt, pepper and mustard
Olive oil or butter
7 oz shallots
4.2 oz blueberries
1 natural yogurt
½ cup mayonnaise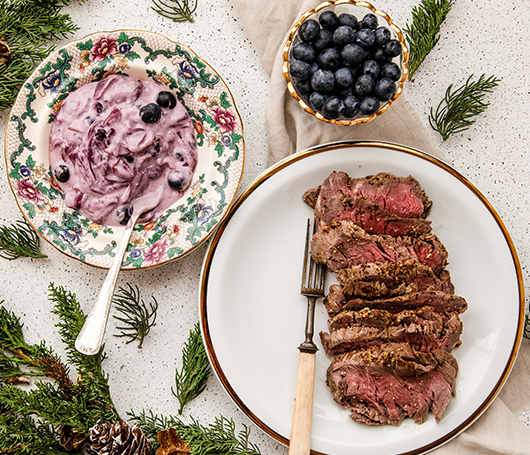 Preparation
Preheat the oven to 390°F.
Sear the fillet in a hot pan with olive oil or butter, browning the entire the surface. Remove from the heat, put in a loaf pan, and bake at 360°F for about 20 more minutes. Take out and allow to cool completely.
In the same pan you seared the fillet, add some oil and the shallots, sliced. When they begin to brown, add the blueberries and season with salt and pepper. Simmer until the blueberries have tinged all the preparation. Remove from the heat and allow to cool.
Then mix with yogurt and mayonnaise, stir well, taste, and season.
Thinly slice the roast beef and serve with the sauce on the side.