GLUTEN-FREE STRAWBERRY COCONUT FROZEN PIE (KETO)
Ingredients
(8 servings)
Crust:
7 oz almond flour
3 oz butter
2 tbsp erythritol
½ tsp vanilla extract
Filling:
4 tbsp soft butter
8 oz cream cheese
1/3 cup erythritol
1 cup cream
1 tsp pure coconut extract
2 cups strawberries
1 cup grated coconut
Salt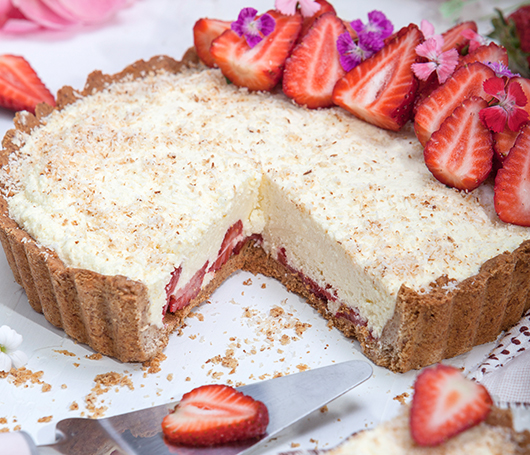 Preparation
Put all the ingredients for the crust together, integrating well, and refrigerate for at least 30 minutes.
Cover a springform pan with plastic wrap up to the edges and put in the preheated oven at 360°F for 20 minutes. Set aside.
In a big bowl, beat the butter and cream cheese until soft.
Add 1/3 cup powdered sweetener and beat until combined.
Add a cup of heavy cream, coconut extract and a pinch of salt, then use a wire whisk to whisk at full speed until the cream is firm.
Incorporate 1/2 cup grated coconut to the mixture.
On the base of the mold, put thin strawberry slices over the dough. Then pour the coconut filling and smooth out with a spatula. Refrigerate for 1 hour.
8. In a small pan, scatter the remaining ½ cup of grated coconut and toast over medium-low heat, stirring frequently, until brown (4-5 minutes). Immediately transfer to a plate to cool off.
Scatter toasted coconut over the pie and decorate with strawberries.