CHOCOLATE AND BERRY CRÈME BRÛLÉE
Ingredients
(6 servings)
9 oz cream
2.7 fl oz milk
4 yolks
2 oz granulated sugar
3 oz dark chocolate
For decoration
4 tbsp granulated sugar
7 oz berries: raspberries, blueberries, strawberries and cherries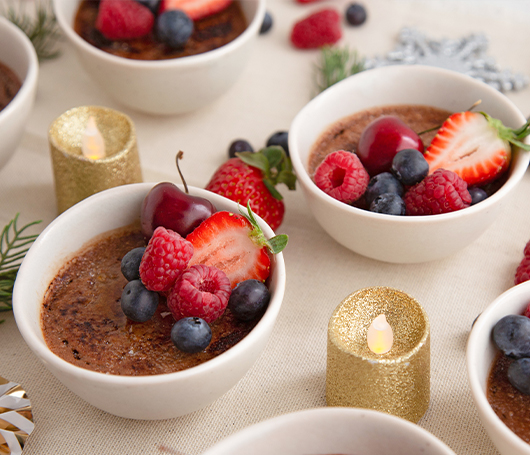 Preparation
Preheat the oven to 270°F.
Heat the cream and milk in a pot. Once warm, remove from the heat.
Melt the chocolate in a bain-marie.
Beat the yolks with sugar until well mixed, add warm cream, stir, and add the melted chocolate.
Distribute the mixture into 6 oven-safe containers and put in the oven in a bain-marie for 40-50 minutes, taking care the temperature does not rise and the water does not boil (you can add ice cubes while cooking). Once set, take out and allow to cool.
Refrigerate for 3-4 hours, then sprinkle sugar on top of each dessert and, using a blowtorch, melt it to turn it into caramel.
Decorate with berries when serving.