SALMON WITH BLACK LENTILS AND BLUEBERRIES
Ingredients
(4 servings)
1 salmon fillet, 1.5 lb approx.
1 cup black lentils
1 small scallion
1 cup fresh blueberries
1 lettuce
2 fl oz lemon juice
1 tsp mustard
3.4 fl oz olive oil
1 tbsp butter
Salt and pepper to taste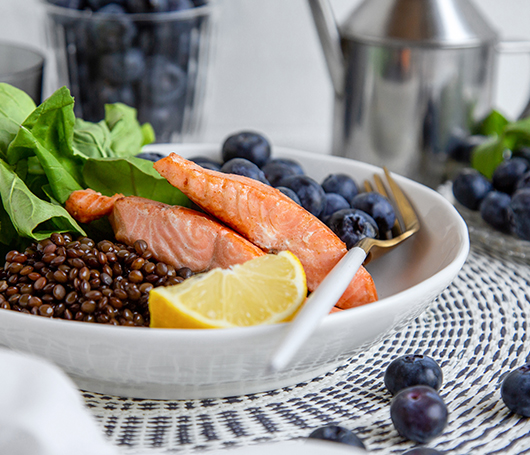 Preparation
In a hot pan, add a dash of olive oil, sauté the scallion, thinly sliced, season with salt and pepper and add the lentils. Stir, add 1 cup of water, let it cook over medium heat until the lentils are tender. Remove and allow to cool.
Cut the salmon into 4 pieces, add 4 tsp of lemon juice, some salt and pepper, and let it sit for 15 minutes in the fridge.
For the dressing: in a jar put 1.4 fl oz lemon juice, mustard, and 2.7 fl oz olive oil. Season with salt and pepper and blend until smooth (you can use a whisk or a hand blender).
Put butter in a hot pan and once melted, put the salmon fillets, allowing them to brown before flipping them.
For the assembly: in a plate or bowl, put some lettuce with the dressing, some blueberries on the side, then salmon and warm lentils. Add some more lemon juice if you wish.