PEAS, 3-CHEESE AND BLACKBERRY SALAD
Ingredients
(4 to 6 servings)
12 oz cooked peas
1 tbsp pesto sauce
Juice of 1 lemon
3.5 oz mozzarella cheese
1.7 oz feta cheese
2.1 oz Gruyère cheese
3.5 oz fresh blackberries
Salt to taste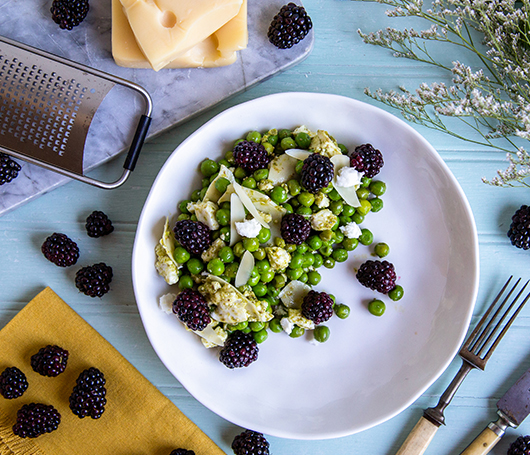 Preparation
Put the peas in a bowl and mix with pesto and lemon juice. If necessary, add some more olive oil.
Shred the feta cheese by hand, grate the Gruyère, and cut the mozzarella into small chunks.
Add all the cheese into the bowl and check the salt.
Add blackberries right before serving and mix.