GLUTEN-FREE / SUGAR-FREE ALMOND, ORANGE AND BLUEBERRY BISCOTTI
Ingredients
(10 servings)
1 ½ cup almond flour
1/3 cup erythritol
2 eggs
1 tsp gluten-free baking powder
4 tbsp olive oil
1 tsp cinnamon
1 cup almonds
Zest of 1 orange and juice of ½ orange
3/4 cup blueberries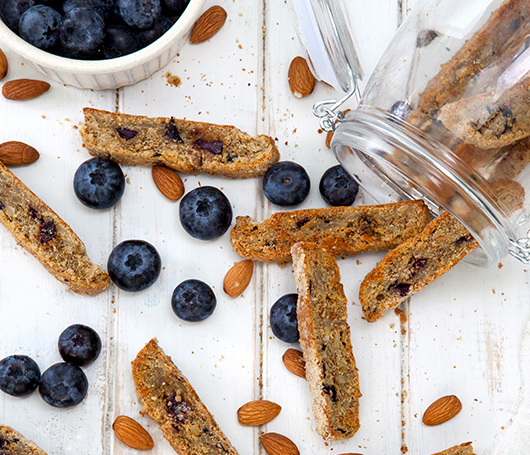 Preparation
Put the almond flour in a bowl and add baking powder, erythritol, almonds, cinnamon, orange zest and make a hole in the middle.
Add the eggs, oil, orange juice and blueberries. Mix well until obtaining a sticky dough.
Put some flour over the dough and make a roll (it will be a little sticky) with a rectangular shape. Put in an oven tray with parchment paper or some olive oil.
Put the roll in the oven preheated to 360°F for 30 minutes, until puffed up and plump.
Take out and wait until cold.
Use a good knife to cut into 0.4-inch slices, place in the tray and bake at 300°F for 15 minutes or until brown and crunchy. Allow to cool.