SAUTEED ASPARAGUS WITH BLACKBERRY BUTTER (KETO)
Ingredients
(4 servings)
1 lb 2 oz asparagus
1 tbsp olive oil
2 tbsp lemon juice
3 oz butter
4 bacon strips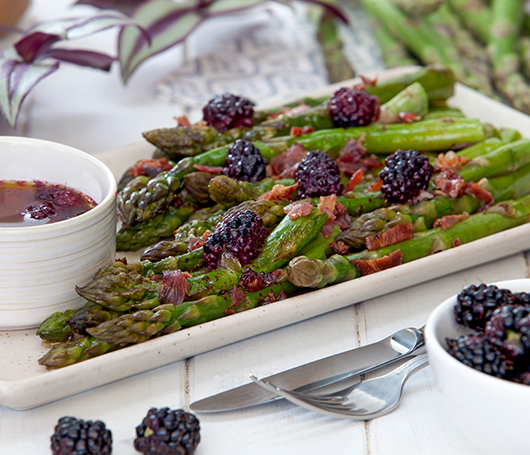 Preparation
Cut the asparagus stalks and cook for 10 minutes (they shouldn't be 100% cooked). Strain and set aside.
In a pan over medium heat, add the tablespoon of olive oil and sauté the asparagus for 5 minutes or until slightly brown. Season with salt and pepper and set aside.
In a different pan, very hot, melt the butter with blackberries until golden. Remove from the heat, allow to cool, and add lemon juice.
Put the bacon strips in a plate with paper towel and microwave in 1-minute intervals, until the bacon is brown and crumbles easily.
Put the asparagus in a plate and add blackberry butter and crispy bacon on top.